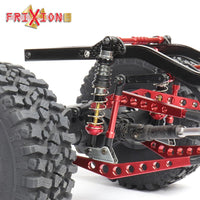 ReKoil Shocks
Frixion R/C is here with a complete line of ReKoil scale shocks for almost any application from rock crawlers to drag racers.
Available in a wide variety of sizes from 55mm to 110mm in 5mm increments! Threaded aluminum shock bodies ensure buttery smooth suspension action and help you fine tune ride height with ease.
Includes both dual and single rate springs to give the end user more options!
Coated shock shafts for durability and smooth dampening. Long and short rod ends included for added adjustability. Machined aluminum shocks caps for extra strength.
Let Frixion take your R/C game up a notch with their tried and true Rekoil Shocks!
Shop Now
Whip Stixx
FriXion RC proudly presents our new colored LED Whip Stixx! Add an original touch to any scale R/C with an assortment of colors available to match almost any paint scheme! There is also a multi-colored option with built in color auto-cycle! Whether you are hitting the trail, the track, sand dunes, drag strip, or the local drift track, customize your ride with FriXion's LED Whip Stixx! They can be mounted virtually anywhere for endless options and looks! - Adds guaranteed style points instantly...doesn't it girls?
Shop Now